Aerial show for TUI cruises – vessel Mein Schiff 4
Reporter Patrick Wulf zeigt uns das Innenleben des neuen Luxusliners. Wasser ist ihr Element, da passt es doch ganz hervorragend, dass ausgerechnet Schwimm-Star Franziska van Almsick die Taufpatin eines neuen Schiffes ist. Freitagabend schwingt siein Kiel die Champagnerflasche und tauft den Kreuzfahrtriesen auf den kreativen Namen:"Mein Schiff 4".An Bord des neuen Kreuzfahrtriesen geht es luxuriös zu. Und unser Reporter Patrick Wulfdurfte sich vorab schon mal umsehen.Hinter den Kulissen der "Mein Schiff 4"Freitag, 05.06.2015.
Opening center Mega Park in Almaty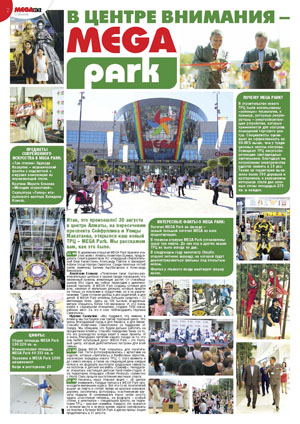 MEGA PARK ALMATY – A new 100,000 – square meter shopping mall utilising innovative green building technologies opened here on August 30-31. Mega Park is the largest chain of international standard shopping and entertainment malls in Kazakhstan. Aerial duet Primavera was presented aerial shows program for this gig.